# 1
Halo, petualang!


[Chaos Token] akan didrop saat mengalahkan musuh di berbagai daerah seperti Elion, Hadum, Chaos, dan lainnya.
Pastikan untuk akses setiap hari karena dapat menukar dengan Item yang bermanfaat untuk petualangan seperti Chaos Core, Totem Chest, Dark Coin, Lucky Chest of Darkness dari Banner Event dengan mengumpulkan [Chaos Token]!
Dapat memperoleh salah satu dari Chaos Crystal x200, Chaos Crystal x350, Chaos Crystal x1000 dengan peluang yang telah ditentukan jika menggunakan Lucky Chest of Darkness.
---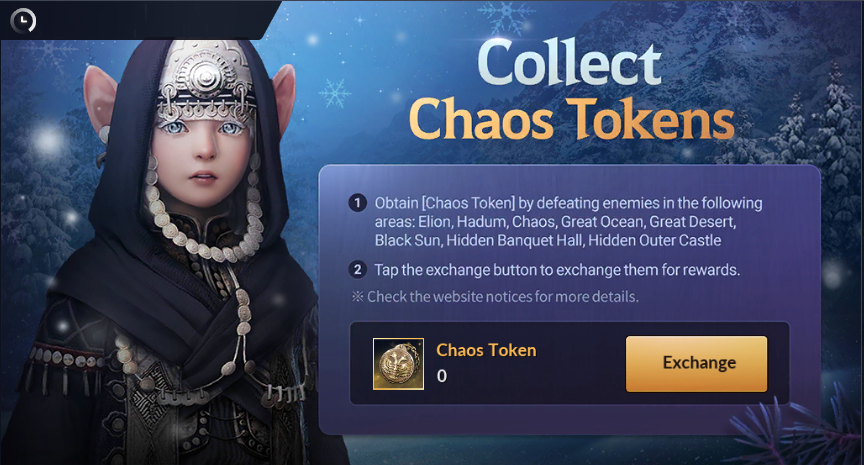 ▏Periode Event
Setelah Maintenance 17 Januari 2023 (Selasa) - 24 Januari 2023 (Selasa), pukul 23.59


▏Isi Event
1) Sentuh ikon kotak hadiah yang ada di sebelah kanan Minimap kemudian masuk ke halaman 'Event Memperoleh Chaos Token'.
2) Gunakan [Chaos Token] untuk menukar dengan hadiah yang diinginkan.
3) [Chaos Token] dapat diperoleh dengan mengalahkan musuh di daerah Elion, Hadum, Chaos, Black Sun, Perjamuan Tersembunyi, Reruntuhan Kastil Luar Tersembunyi, Samudra, Gurun Besar.


▏Syarat Pembukaan Halaman Event
- Tidak ada.


※ Perhatian
- Periode dan isi Event dapat mengalami perubahan.


Terima kasih.
2023-01-17 01:19