# 1
Halo, petualang!

Tukarkan dengan hadiah Token Malam Perkembangan yang diperoleh saat mengalahkan musuh di sekitar di Tempat Penukaran!


Kamu dapat memperoleh beragam hadiah seperti Adventurer's Ancient Inscribed Glyph, Restoration Scroll, Tear of the Goddess, Adventurer's Luthraghon Accessory Set Chest dan lain sebagainya yang pastinya dibutuhkan untuk petualangan.


Mulailah petualanganmu sekarang dan dapatkan Token Malam Perkembangan!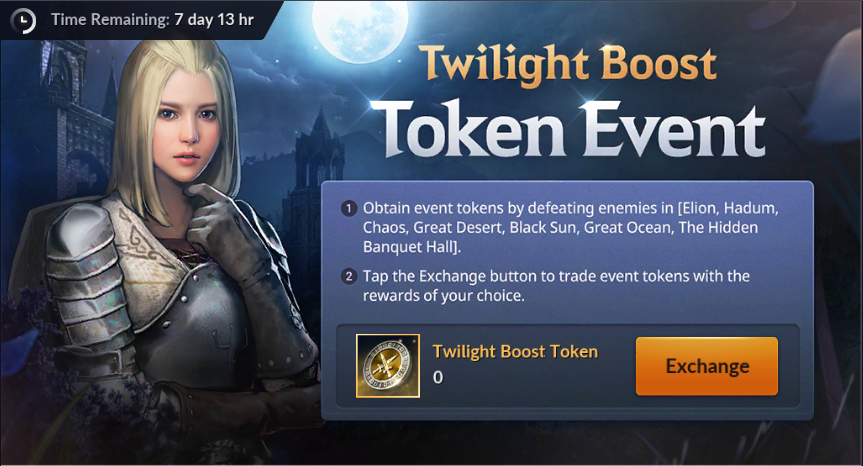 Periode Event
Setelah Maintenance 26 Juli 2022 (Selasa) - 1 Agustus (Senin), pukul 23.59


Isi Event
1) Sentuh ikon Kotak Hadiah di bagian kanan Minimap untuk membuka tab Event dan masuklah ke halaman 'Event Pengumpulan Token Malam Perkembangan'.
2) Dapatkan [Token Malam Perkembangan] dengan mengalahkan musuh di sekitar.
※ Token Malam Perkembangan akan didrop di setiap daerah.
- Elion, Hadum, Chaos, Gurun Besar, Perjamuan Tersembunyi, Samudra
3) Sentuh tombol [Tukar] untuk menukarkan dengan hadiah yang diinginkan.


Syarat Pembukaan Halaman Event
- Tidak ada


※ Perhatian
- Periode dan isi Event dapat mengalami perubahan.


Terima kasih.
2022-07-25 23:16