# 1

Halo, petualang!

Event memperoleh hadiah tambahan sesuai jumlah kemenangan di Battlefield of the Sun sedang berlangsung.
Pastikan kamu berpartisipasi di event ini karena Alyaelli Fragment, Chaos Crystal dan hadiah berharga lainnya sedang menantimu!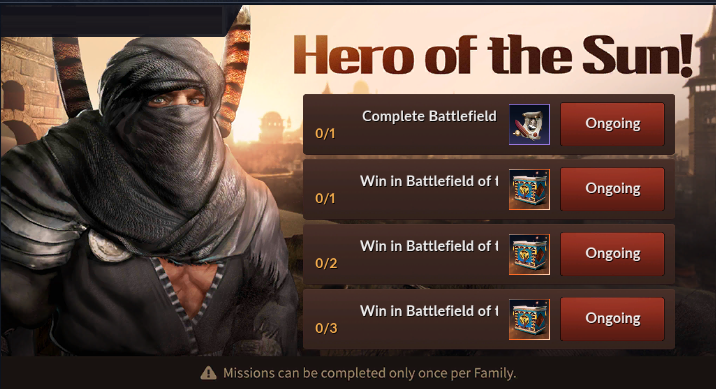 📢 Periode Event
Setelah Maintenance 18 Januari 2022 (Selasa) - 31 Januari 2022 (Senin), pukul 23:59
📢 Isi Event
- Dapatkan hadiah dengan menyelesaikan misinya.
※ Setiap misi hanya dapat diselesaikan 1 kali selama periode event.
📢 Hadiah

📢 Syarat Pembukaan Halaman Event
- Selesaikan Cerita, Angin Merah yang Bertiup di Gurun
※ Perhatian
- Periode dan isi Event dapat mengalami perubahan.

Terima kasih.
2022-01-18 00:16